GARRARD HISTORY
Garrard & Co. Limited, designs and manufactures luxury jewellery and silver. George Wickes founded Garrard in London in 1735. Garrard was the first official Crown Jeweller of the UK, charged with the upkeep of the British Crown Jewels, from 1843 to 2007. Garrard also created some of the world's most illustrious sporting trophies, including the Americas Cup, the ICC Cricket World Cup Trophy and a number of trophies for Royal Ascot.
In 1915, Garrard & Co formed, The Garrard Engineering and Manufacturing Company, to manufacture precision parts for the military. They initially made precision range finders and later hand-grenades marked 'G/Swindon' and the bomb releases for Wellington and Lancaster bombers.
After WW1, in 1919, they started producing consumer products, concentrating mainly on high-quality spring wound gramophone motors for the likes of Columbia and Decca. Before this all gramophone motors were imported in from Switzerland and Germany. During this time they designed and produced some of the very best spring & electric motors followed by a huge lineage of turntables which culminated with the now world famous Garrard 301 and 401 turntables.
In 1960, the company was sold to Plessey, an electronics conglomerate. From 1976-1978, Garrard worked on video disc and data storage but foolishly chose not to invest in the technology. In 1979, Plessey sold Garrard to Gradiente Electronics of Brazil and their turntable series production was moved to Brazil (Manaus). The remaining Garrard research and development operation in Swindon was reduced to a skeleton operation until completely shut down in 1992.
"Between 1992 and 1997, the Garrard brand name was licensed to other companies in the USA, which imported many electronic items built by many different and unrelated Far Eastern manufacturers. These included "Garrard"-branded cassette decks, CD players, stereo receivers, boom-box radio/cassette machines, portable "Walkman" type cassette players, serial-port printer cables, universal TV/audio remote controls, and other miscellany, including turntables that had nothing to do with any original Garrard design."
In 1997, Gradiente licensed the Garrard name to Terence O'Sullivan, who operated as Loricraft Audio. A labour of love ensued. Terry O'Sullivan kept the Garrard legend alive. Laricraft Audio serviced and re-built the classic Garrard 301's and 401's and also manufactured support products. They became the leading authority on 301's and 401's
In 2006 Loricraft continued the Garrard legacy by introducing the next generation of classic Garrard Turntables. The Garrard 501 and soon followed by the Garrard 601. They were designed with guidance from a number of former Garrard employees. "Among them was Brian Mortimer, head of quality control at the Swindon factory. And Brian's father, the late Edmund (Monty) Mortimer, was the head of research at Garrard so this creates an unbroken link with pre-Gradiente, pukka Garrard." The Mortimer' have written a wonderful book on the subject, "The Garrard Story"
In 2018, Cadence Audio SA, who also own the British turntable and tonearm manufacturer SME Limited, took ownership of the Garrard brand and registered trademarks when they purchased Loricraft Audio Ltd. The business was restructured to run under the name of Garrard Turntables UK Ltd. What will they produce next?
GARRARD MOTORS
This section will try and document Garrard motors during the golden age of the Gramophone. It covers all spring motors and attempts to cover electrical motors up to the Garrard 401 transcription turntable. It does not cover the myriad of players and record changers produced by the company.
Motors made by Garrard for other companies, like Columbia, Decca, HMV, Selecta and many others., were often marked with that companies name.
Here is a quick reference page for Garrard Spring Motors.
Set models were often improved and then marked as type A and Type B. Here for example is a Garrard model 10. It has three different improvements.
Garrard 10 - Note that the winder is positioned in the middle of the motor.
Garrard 10a - The winder has moved to the top of the motor. The larger winder gear has been moved from the bottom to the top. To position the gear, a section is now cut out of the cast allowing room for the gear.
Garrard 10b - As for 10a plus added side mounted governor adjustment for an above motorboard lever control. Also improved Garrard patented governor with weights screwed onto the inside of the governor spring.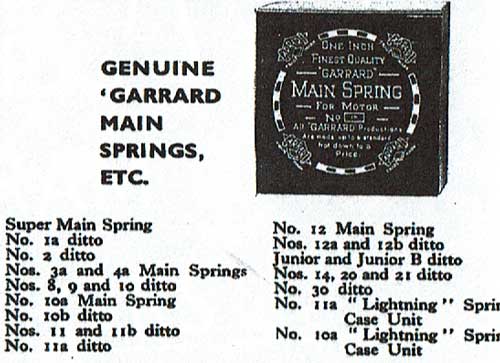 Garrard Main Springs
This snippet from an undated catalogue suggests that each one of these Garrard motor models had unique spring sizes
---
*The Pressed steel turntable patent GB216823 was granted to Garrard on June 5th 1924. It had a bevelled hollow rim. This enable the fraying edge of the plush that the turntable was covered with to be tucked in. Plush unlike felt is a woven material which is prone to fraying at the edge when cut but was also available in a large variety of colours.
GARRARD LEGENDS
This section covers the two Transcription Turntables made by Garrard that today are considered "Legends". The Garrard 301 and the Garrard 401.
Transcription Turntables are assessed by measuring the amount of rumble and wow & flutter generated by the turntable while playing a record. No turntable is perfect, there is always a degree of noise created by accuracy of speed and its stability, friction, heat and electrical interference from the electric motor. The wow & flutter may be too tiny to hear but can be recorded when amplified with test equipment and are recorded as a degree. It's measured as RMS (root mean square) values at 33⅓ rpm, of the sine wave voltage on test equipment.
To qualify as a Transcription Turntable, the following criteria is applied.
Wow: (Variations in turntable speed below 20Hz) Better than 0.1% RMS
Flutter: (Variations in turntable speed above 20Hz) Better than 0.04% RMS
Rumble: (Unwanted background noise below 500Hz, only really significant below 200Hz) Better than -32dB relative to 1kHz at a recorded velocity of 1cm/sec
Transcription Turntables are used by audio enthusiasts, radio, television and recording studios. They are built to a higher standard of precision engineering than commercial record players. They also needed to be robust as often they were used 24/7.